The World Wide Web is a huge place where you can reach an audience anywhere in the world. Whilst English is the most common language used for content on websites at roughly 54%, it only accounts for 25.9% of the users according to W3 Techs. A large part of our users are bi-lingual and have clients locally and internationally as they seek out beautiful destinations for their big day.
This can lead to the dilemma, what language do you use on your site? Thankfully with WordPress you no longer face this issue, you can translate your entire website into multiple languages with the help of some useful plugins and or services. In the following article we will show you how to use the WPML plugin which allows you to translate your site, to maximize your website traffic by improving user experience, expanding your audience and potentially even ranking better for local SEO.
Choosing the right WordPress translation plugin
There are an array of plugins available on the WordPress.org repository that will allow you to translate your site. However not all things are equal and this is the case for translation plugins. When choosing a WordPress translation plugin you should look for a number of key features to make sure that it's going to do the job for you:
Supported and up to date – make sure that the plugin is up to date with the most recent versions of WordPress and that they have an active support team.
SEO Friendly – it should allow your content to be readable and suitable for multilingual SEO
Supported Languages – check that the languages you wish to translate to are supported
Ease of use – no one wants to code when translating their site, find one that is going to make the process a breeze
Automatic or manual translations – automatic translation plugins are a great tool to translate a site quickly, but we all know how wrong translations on the web can go. Make sure that your plugin lets you edit translations manually so you don't any some errors on your site.
Having worked with various translation plugins over the last 5 years, we have found that WPML ticks all the boxes for WordPress translations. In the rest of this guide we are going to show you how to use WPML to translate your WordPress website.
Translating your site with WPML
WPML is the best known translation plugin for multilingual sites on WordPress. It supports over 40 languages right out of the box and you can add your own languages as you go, it's used by around 400,000 WordPress websites worldwide.
WPML allows you to translate your site on the same domain, a sub-domain, or even on an entirely different domain, giving you plenty of flexibility for your multilingual site. It is another premium plugin, starting from $29, plus extensions. We recommend the full version costing $79 as it has many benefits and much better translation options such as eCommerce support.
WPML offers both manual and automatic translations. As standard you can do the manual translations for your pages, posts etc on your site. If you want to have your site translated with a service, you can sync with ICanLocalize or Cloudwords services. It will send it to the service, and translate the site for you.
Their official documentation explains how to translate a site with their plugin. However we have extended the documentation here to explain better how you can translate all of your site with your WordPress.
Getting Started
First, you need to to purchase WPML Multilingual CMS and then you'll want to install the following 3 plugins:
WPML Multilingual CMS
String Translation Module
Translation Management module
Learn how to Install Plugins Here.
Step 1 – WPML Basic Configuration
See the following video to get started with WPML, and read on for more details and info:
Now that you have the plugins installed on your site, you'll want to start with the WPML setup wizard, to do this just go to the new WPML menu item in your WordPress dashboard.
First you can choose your websites existing language, WPML can also detect your current site language: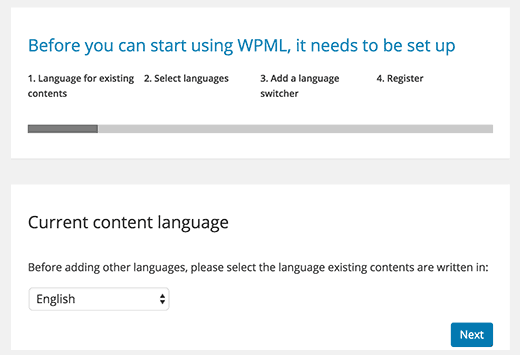 Next choose the languages you want for translation, just check the options you need (if your language isn't here, it can be added later):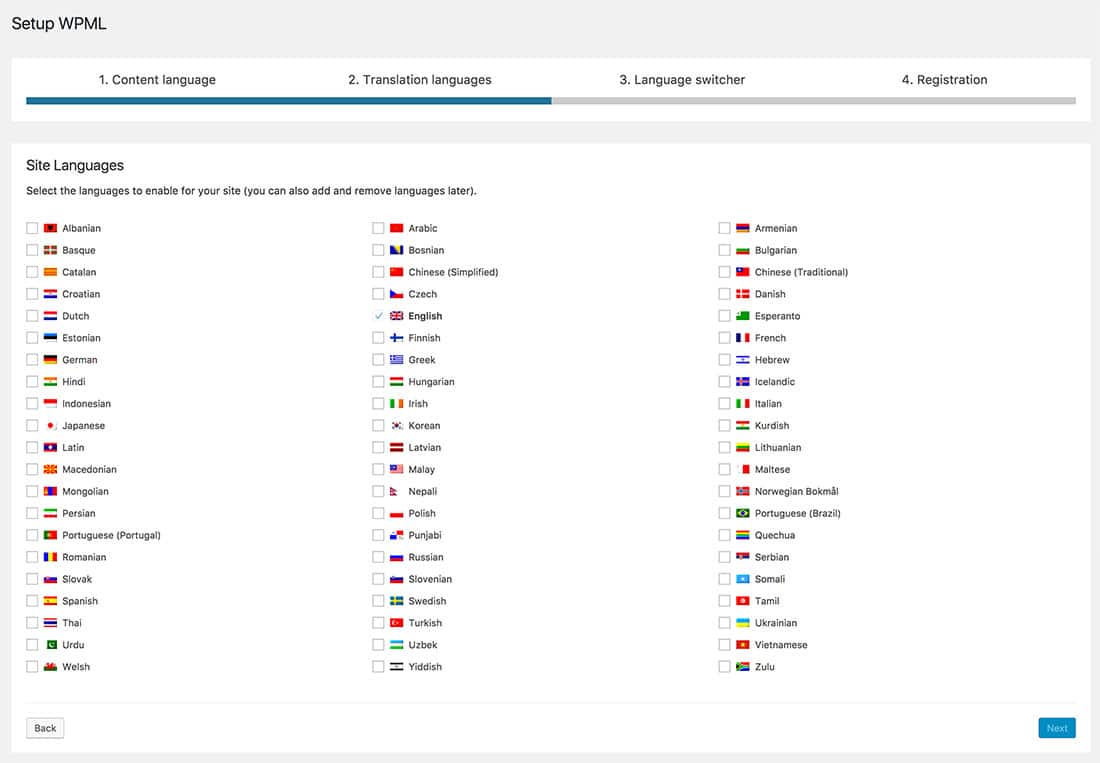 Now choose where you want to add the language switcher, this will allow your users to choose what language they view your site in: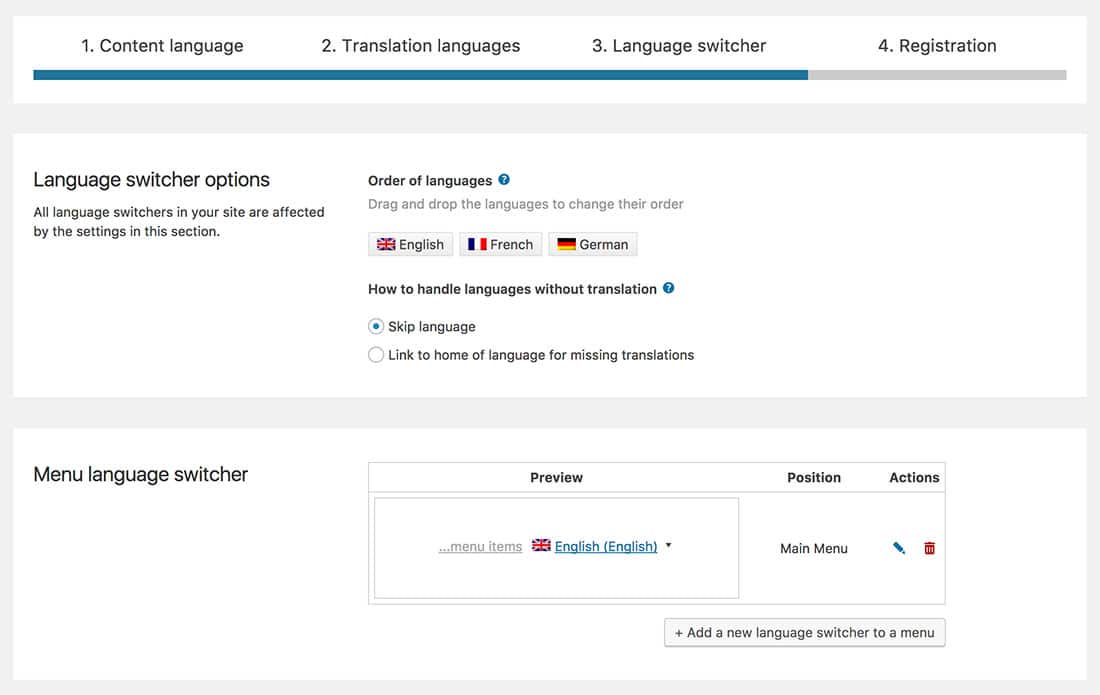 Finally you will need to register your plugin if you haven't registered already, add the key and finish:
Step 2 – Translating WordPress Content
Now that you have setup and configured your languages, you will be able to start translating your content, including pages, blog posts, galleries and any other custom post types that you might have.
Making a translation is simple:
Navigate to a page or post, and then in the sidebar, you'll have a new "Language section" select duplicate, and hit duplicate button for the language of your choice:
Now the page will reload and you will have a duplicate page option under translations, just hit the pencil icon:
You will now be in the duplicate page with the original content, go ahead and update it as necessary:
Repeat this process for all of your existing pages and content.
When you go to your page or posts, you will now see the different languages and any content that has been translated:
| | | |
| --- | --- | --- |
| Icon | Current status | Action |
| | The content is not yet translated | Create a new translation and start editing it |
| | The content is already translated, and the translation is up-to-date | Edit the existing translation |
| | The content is translated, but the translation needs updating | Edit the existing translation |
| | The content is translated, but the translation needs updating, and a new translation is already in progress | Further action is not possible because a translation is already in progress |
You will also notice a + sign beside content that hasn't been translated (shown above), if you hit this it will create the page in that language, however it will not add the existing page content (this is why we prefer to use the duplicate method to save time).
To add the existing content (it may not work with page builder themes like Flothemes, so make sure to use the duplicate method), go to the language meta section on the right and click on "copy content from English (or your main language)" and also add your new translated page title:
Step 3 – Translating Categories and Tags
Using categories and tags to structure your content? You'll want to update those too. To do this go to WPML > Taxonomy Translation and choose the taxonomy to translate (categories and tags), then simply hit the plus button underneath the language you want to add a translation for: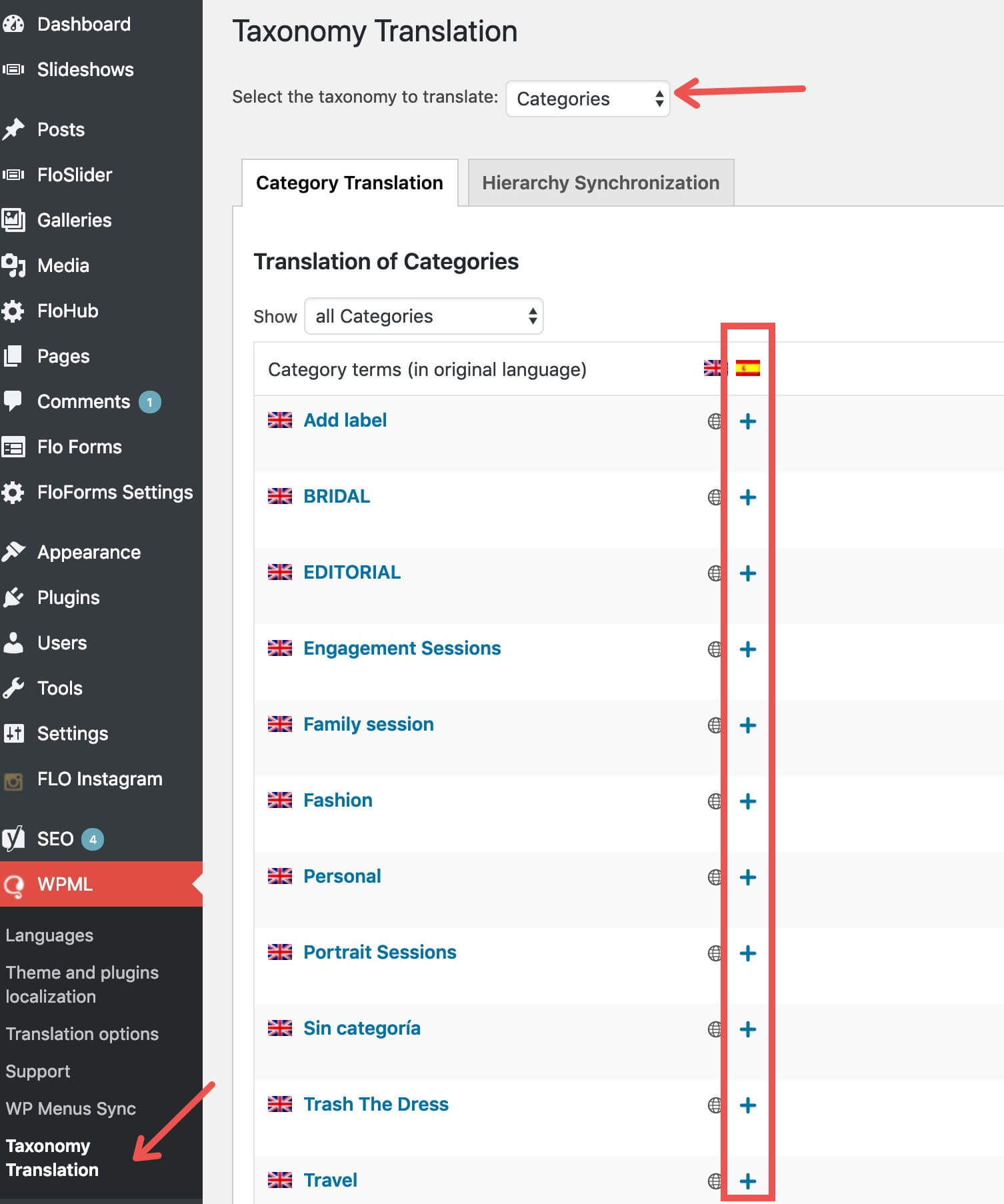 Step 4 – Translating Menu Items
Now that you have translated your content, you will want to translate your menus, check out the following video from WPML showing you exactly how to do that:
Read the full documentation here.
Step 5 – Translating Strings
Translating strings, this is content that you can't adjust easily inside the WordPress editor, it could be from your theme settings, or global settings that you won't find in your page content. To edit strings, make sure that you have added the extension "WPML String translation".
Then you can navigate to WPML > String Translation, and at the top you can choose which strings to view, you'll probably want to start with those that aren't translated: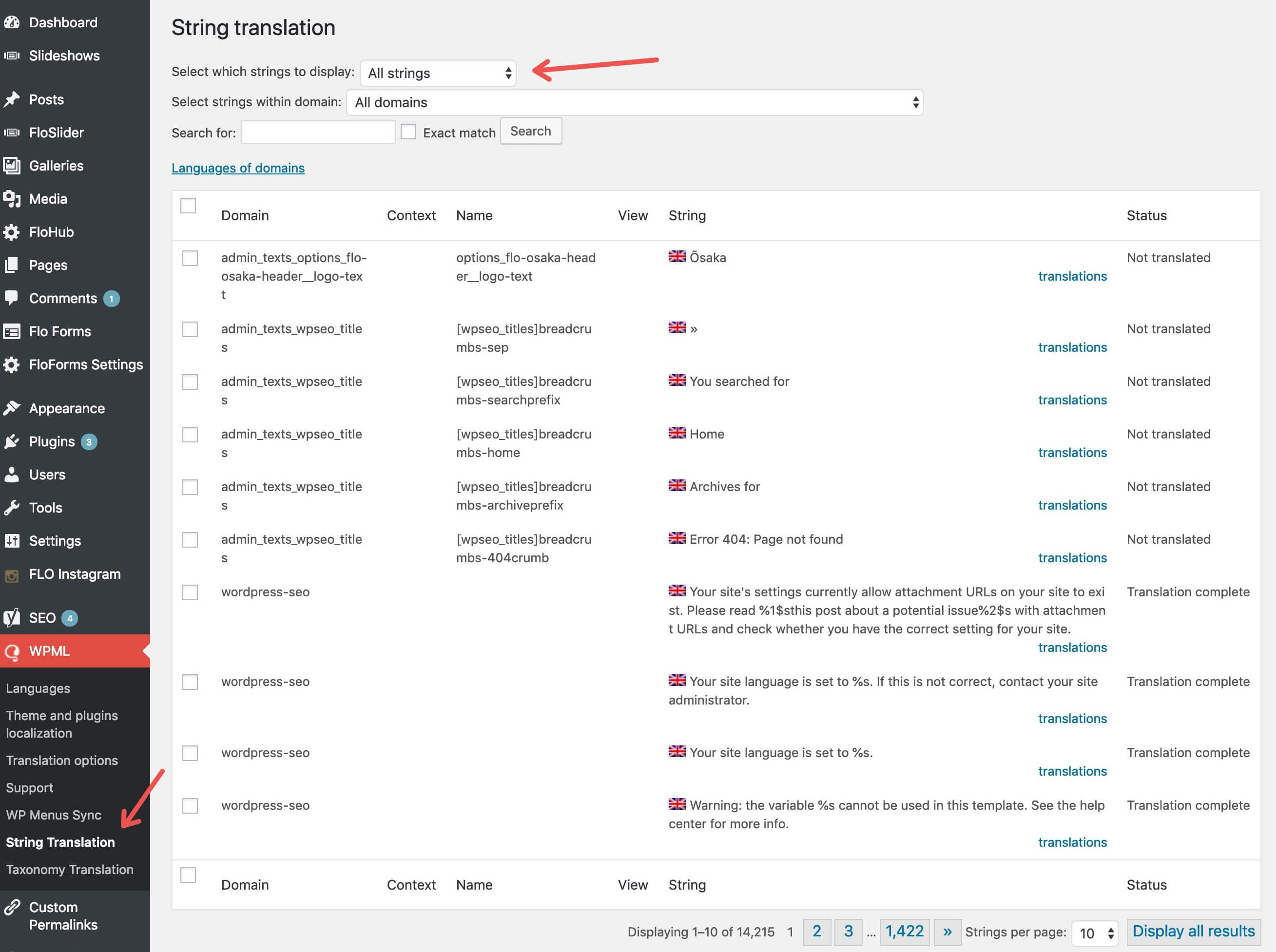 Now you can follow this 5 step process to update a string:
View the string in your current language
Hit translations
Add the translation for the languages needed
Confirm the translation is complete
Hit save
You can repeat for the rest of the strings on the site.
See the following video showing this process in more detail.
Read full documentation on strings here.
So there you have it folks, that's how you can translate your site using WPML. With WPML you have a lot of options and can really translate everything for your site, it's drawback is that it's not as easy to use and the lack of an auto translate feature can mean that you spend a lot more time making translations.
It's still the most comprehensive plugin on the market, just expect the process to take longer. If you want a professional to take care of the translation process for you, check out WPML translation services for more details.
https://wpml.org/translation-service/
Conclusion
Translating your WordPress site doesn't have to be difficult. In this article we have shown you how to use one of most popular WordPress translation plugins on the market. If you want a tool that lets you translate every possible option with your site, then check out WPML, it's harder to configure, but it definitely comes with some great options.
Now it's time for you to start translating your site, increase your websites potential, and hopefully start converting more site visitors.